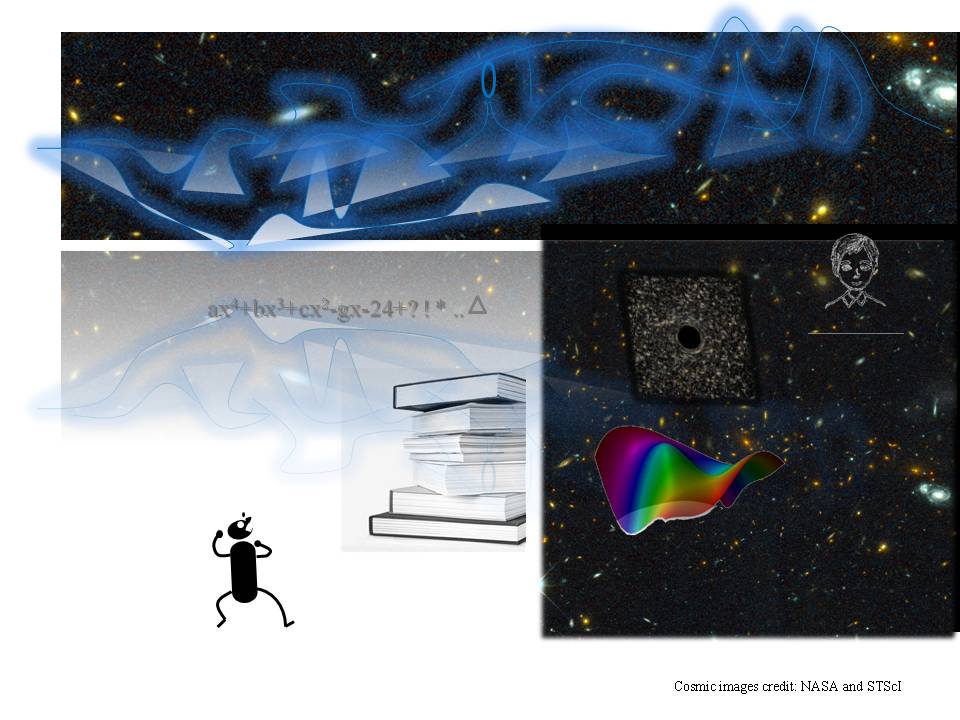 From the revelations of particle smashers of CERN (the European Organization for Nuclear Research), the discoveries of radio detectors of ALMA (Atacama Large Millimeter/submillimeter Array), the disclosers of outer spatial and extragalactic missions of COBE (Cosmic Background Explorer), Hubble, Fermi Gamma-ray, Chandra X-ray, Spitzer, Kepler, the forthcoming James Webb telescopes (list is almost endless), the evidence of gravitational waves by Background Imaging of Cosmic Extragalactic Polarization (BICEP), the detections of dark matter and energy to the readings of underground neutrino missions (one upcoming- Deep Underground Neutrino Experiment) toward understanding the evolution of the universe, the amount of information waves at us in all sorts of gestures for us to pin down the meaning of it all—in one sweep.
The bona fide bits are flying in from other places equally effectively.
And I am not referring to, or including, the classical principles—such as Einstein's relativities, Newtonian's mechanics or pure thermodynamics—that are tested stringently and utilized intensively. Or alluding to the established systems such as calculus or polynomials that help us shape and employ those doctrines. I am referring to all these new inputs that although seem foundational, are turning out to be rather bewildering in our trek to fathom the nature of reality.
The universe prodigiously expands; the dark matter lurks; the dark energy overpowers gravity; the cosmic matter outplays antimatter; the black hole engulfs and dissipates; parallelism pounds; the particle world compounds; the mathematical models of reality amass evermore intricate complexities; the interplay of consciousness in the game of matter and forces takes a scientific stage. These are all real deals piled on us waiting to be pieced into a seeable picture.
We would pause, take a break, by cramming a book in a very different subject, or even more leisurely, indulging in a movie. Indeed, we have different tastes and choices. But for those of us inspired by the workings of reality, often these tangential sprints put us right back into the same captivating territory laden with puzzles and strewn with myriad codes. In recent times, the art of science fiction has grown rapidly: Interstellar, Inception, Knowing, and Contact are some flicks that caught attention. Many literary works on science fiction did equally effectively: I happen not to browse science fiction books too many, but the regular page-long coverage in Nature appears stimulating.
The reason we enjoy such fictions is because all of this at the end of the day makes us ask the very same questions the scientist in each of us does. In fact fiction flicks such as Interstellar and Contact incite in us those deeper questions we otherwise miss out.
Then there are other science topics not directly addressing the nature of physical universe: Medicine, psychiatry, neurosurgery, psychology, even biographical (mostly scientific, but some psychology and philosophy). They bring forth new perspectives. Some of them as a pure info are utterly ravishing—like Many Lives, Many Master by Brian Weiss, Being Mortal by Atul Gawande, Brain Surgeon by Keith Black, When the Air Hits Your Brain by Frank Vertosick, The Blind Spot: Science and the Crisis of Uncertainty by William Byers, announcing their own bits. They are excellent reads if for pure knowledge and quality time, but segregated sets of pileups if employing them to conceive a theory of everything.
That reminds me of yet another movie Theory of Everything: smooth and entertaining, immediately after watching which, I grabbed the copy of Black Holes and Baby Universes by Stephen Hawking from the bookshelf and studied through. I had read this many years ago, but this time browsed with a fresh perspective. The messages are sharp and the assays delightful.
But in this context the theory of everything appears niche based, not all-inclusive. Piling continues nonetheless.
The segregation of scientific—or philosophical, for that matter—queries and exhaustive understanding is apparent wherever we go. The discrete details remain crisp and sharp, but when implied holistically the notion becomes vague, in science or otherwise.
The seemingly delusionary tussle between science and philosophy dissolves at the frontiers of a full-length scheme. Anyway, this is an entirely different story.
And in the heap of data that gapes at us, we have the pitches on consciousness, mind, philosophy of religion, whatnot. So keep track of all the pileups, at least till we get there.
See you soon.
Neeti.